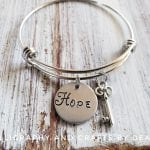 NOVA is selling special silver bracelets with a key charm and "hope" tag, They can only be purchased through NOVA. The key represents your commitment to NOVA and the charm symbolizes hope and healing.
The victims NOVA serves are a source of inspiration and continue to teach us the importance of living in a caring community filled with dignity, compassion, and respect.
The price is $25.00 per bracelet if you would like to pick it up at the NOVA Jamison office. If you need the bracelet mailed to you, $3.50 is added for shipping.
Proceeds from the purchase of this bracelet will support NOVA's mission and our work in the community. Thank you for your support.
Anyone interested in purchasing a bracelet please contact Jill Mann, Development Associate, at 215-343-6543 ext. 6602 or jill@novabucks.org.